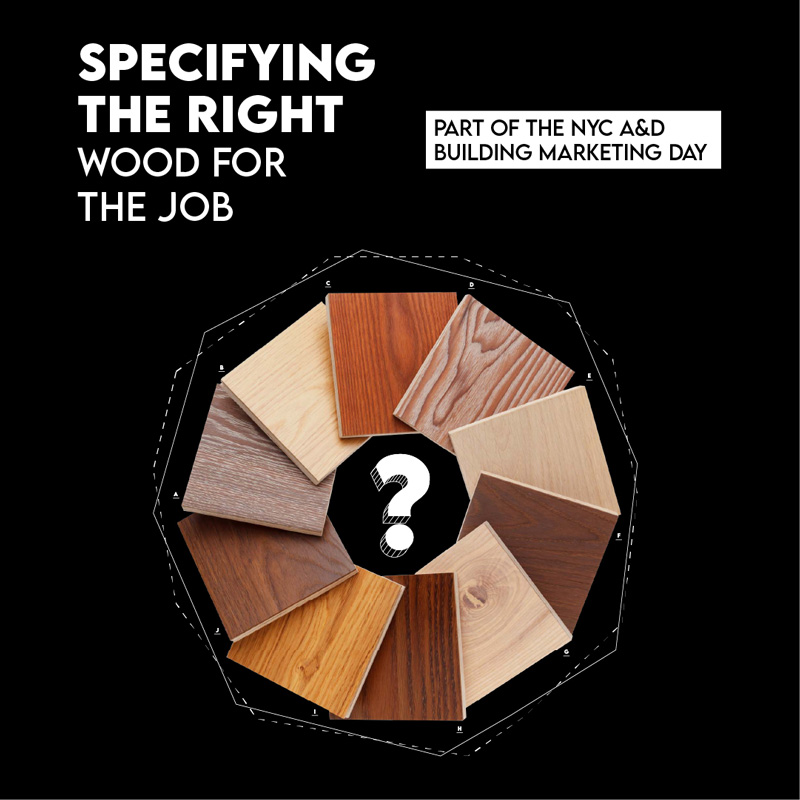 Register Below
For
Specifying The Right Wood For The Job
Join us for the A&D Building Market Day on
June 28, 2022 at 1pm EST.
We invite you to join us
in-person at our NYC showroom
or
virtually via Zoom.
Free of charge to A&D professionals.
Light Lunch will be served.
Our NYC showroom is located at:
A&D Building
150 East 58th Street, Suite 720
New York, NY 10155
Wood Flooring Species
This seminar explores how to specify the right wood flooring for a successful installation. Architect and design professionals will become more familiar with wood and its use as a flooring material in an effort to properly specify the correct product for their client projects.
Describe how wood differs from other flooring options
Understand the different types of wood flooring available
Explain how each type of wood flooring will perform based on where it is installed
Discuss the impact of radiant heat systems & other extreme conditions on wood flooring
Take CEU courses to stay up to date with the latest trends in the wood flooring and surface industry. Offer more options to your clients projects and design solutions that bring their ideas to life.
Provided by the National Wood Floor Association (NWFA).
CEU Credits
NWFA = Registered Provider, AIA/CES, IDCEC

All courses count towards the following credits:

AIA = 1 LU and IDCEC/ASID/IIDA/ IDC = 1 CEU