Engineered Wood Flooring
Engineered Wood Flooring
There are many benefits and advantages to using engineered wood flooring when compared to solid hardwood flooring. Perhaps once considered a lesser quality product, engineered wood flooring has improved as technology advanced. People are becoming more environmentally conscious, resulting in engineered hardwood taking over the flooring market.
Available Thicknesses
The thicknesses available for our engineered hardwood surfaces include ½", ⅝" and ¾". This includes wear layers measuring in at 3mm, 4mm, 5mm or 6mm based upon the material chosen.
You can view other production elements here.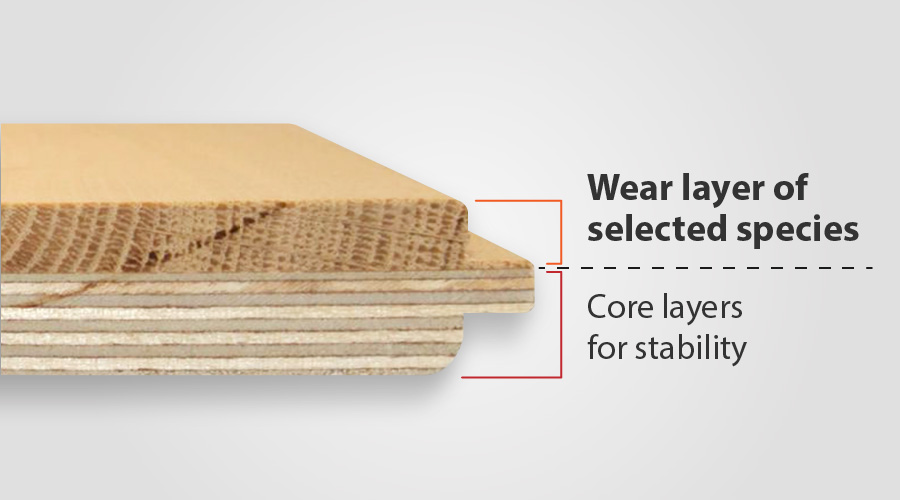 Layered Engineered Plank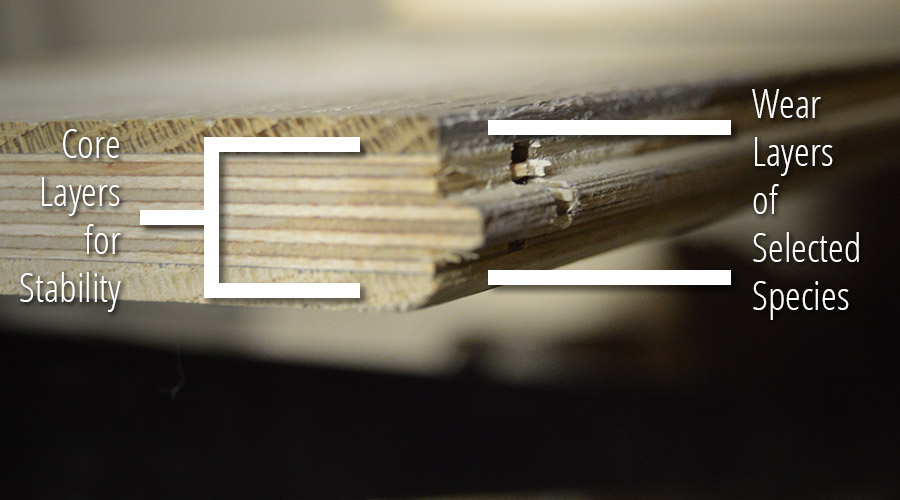 Balanced Engineered Plank
Two- or Three-Section Core
For those who are just learning about engineered hardwood, it is important to know that even though it is engineered, it is still real wood flooring. They are simply made up of layers of real wood, rather than one solid piece.
We offer engineered flooring that is either layered or balanced. Both options provide dimensional stability, minimizing deformation and warping even at the largest sizes, but a balanced plank is the better selection of the two.
A layered plank has a top layer created from the species you selected, followed my multiple layers of another material – usually plywood or another species of tree.
A balanced plank has top and bottom layers of the species you selected, with multiple layers of another material in between – usually plywood or another species of tree.
Pros & Cons of Engineered
Wide Plank Hardwood
All living organisms respond to their environment, and wood is no exception. Hardwood surfaces literally change every day as a result of the environment in which they're installed. In most cases, these changes in the physical structure of engineered hardwood are not noticeable. There are times when the changes can be very obvious as a result of dramatic fluctuations in relative humidity.
Pros
Because of the multiple layers, engineered floors tend to be more stable than solid hardwood floors, especially when it comes to wide plank hardwood flooring.
Engineered hardwood can be installed in below-grade areas, such as basements, and can be placed directly on top of a concrete slab. Solid hardwood typically requires a subfloor installed first when it comes to concrete, which can cause problems with the final height of the floor.
Cons
When the recommended relative humidity and temperature guidelines are now followed, the following problems may occur:
Dry cupping is unique to engineered floors. This is when the top/wear layer loses moisture and dries up more than the layers beneath it, creating a concave appearance. Solid hardwood floors can experience cupping, but this can be caused by too much or too little moisture.
Wood shear can occur in engineered flooring when external stresses exceed the strength of the wood fibers, causing them to be torn apart.
Endlift/Ski is a condition where the ends of installed engineered hardwood planks appear raised or curved upward, which can be the result of too much moisture in the air.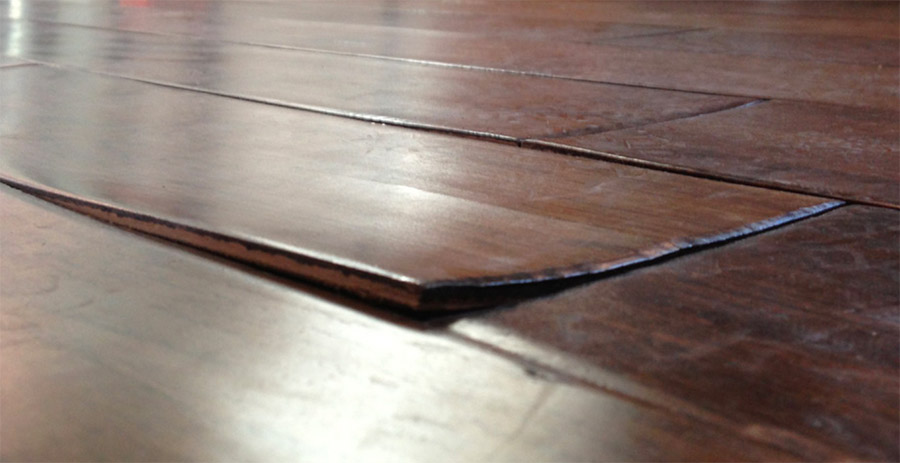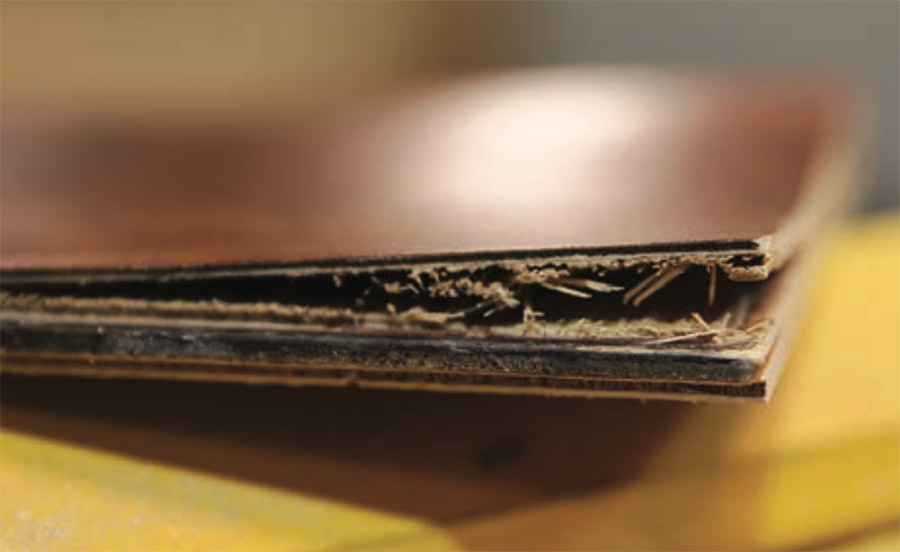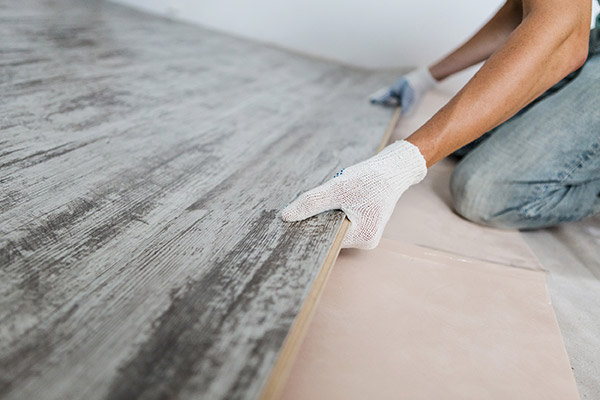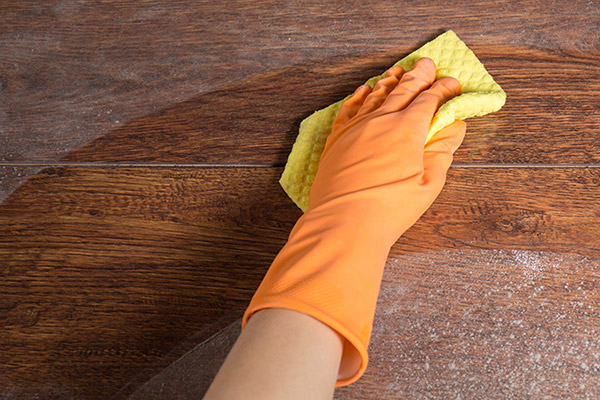 Maintaining Your
Engineered Wood Flooring
To reduce the chance of these problems from happening, here are some precautionary steps that can be taken.
It is important to only install wide plank flooring that is acclimated to the climate it will be installed in. If it is not, after installation the floor can absorb moisture in the air or dry out and lead to deformation of the planks. The temperature must be between 60-75°F with relative humidity of 35-55% for a minimum of seven days prior to delivery.
Some exceptions may apply, so it is suggested you read our installation guide. Our wood floor installation services ensure that your engineered wood floors are installed according to the proper guidelines.
Ensure that the hardwood planks are securely in place, whether it be through nails, glue or any other forms of adhesion. The wood's elasticity can handle normal changes in humidity as long as the planks are installed properly.
If you live in an area that has high or low humidity levels, having central air, also known as an HVAC system, is highly recommended. This will control the humidity levels throughout the year. If you have hardwood in your bathrooms or kitchen, ensure these areas are well ventilated to prevent problems from steam.
For further details on maintaining your engineered hardwood floors, please review our maintenance guides.
Order Samples From Our Color Collections
A portion of information found on this page is directly from the National Wood Flooring Association (NWFA)
Technical Publication "Problems, Causes, and Cures,", revised 2018.
Schedule to speak with a hardwood consultant today.