WEST | WOOD
Finish Mill &
Showroom
Come Visit Us to View
Samples of Our Products
WEST | WOOD Finish Mill & Showroom
Come Visit Us to View Samples of Our Products
Finish Mill & Shipping
Our Finish Mill, located in Calverton, NY, is where we fabricate all of our hardwood surfaces. Our dedication to craftsmanship and pride of work means that owning and operating our own mill is the only option. Our Calverton location also has a flooring showroom open to the public, by appointment.
We personally choose our raw material suppliers from across Europe and the Americas. It's important to us to keep our beautiful wood in our hands, in our mill, to be able to texturize and finish our way.
The Finish Mill is part artist studio, part science lab and proud employer of American master craftsmen who continuously produce some of the finest examples of woodcraft. We utilize age old techniques and newly discovered technologies in pursuit of handcrafted excellence.
We invite you to view some of our completed projects as well.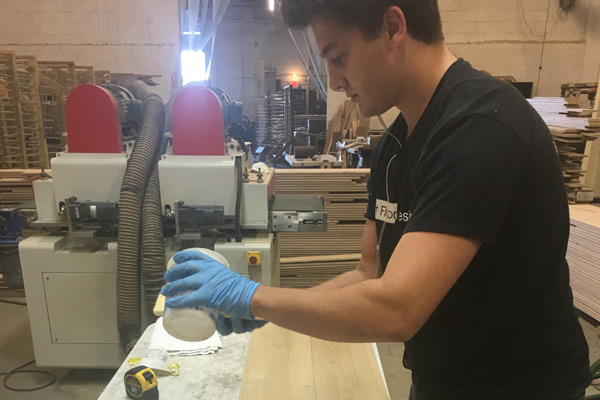 Finish Mill & Shipping
4195 Middle Country Road
Calverton, NY 11933
Hours
Contact
What Our Customers Are Saying
We were completely satisfied with the work performed by West Flooring & Design. My floors are 100 years old and they have been restored beautifully. Peter was a pleasure to work with, very knowledgeable and always willing to listen to my ideas. It was a work in progress but the result was better than I imagined.
West Wood is the best! We met Peter, Nick and Anthony at the Architectural Digest show in the Spring of 2019. They worked hard to create the perfect floor for our New York apartment, and never let us settle for anything less than perfect. They are dedicated and the best at what they do- the floor looks amazing! We are so happy and they are the most complimented part of our apartment. We highly recommend working with them, they are truly artists and experts in their field.
Excellent selection of hard to find colors and finishes of hard wood flooring - as architects we were very happy with the quality and service provided by West - our client is also very pleased - we will continue to use and recommend West flooring for future projects.
Our Projects
We invite you to view some of our most recent projects to get inspiration for your own design.