"Without diversity, creativity remains stagnant." — Edward Enninful
From the beach towns along the coast to the arid deserts found inland, each area's style has been influenced by various elements found in nature. People who migrated to the west coast brought along design based on their cultural heritage.
Basic Design Elements
Even though each part of California's style has had inspiration from different sources, they all evoke feelings of comfort and relaxation while still maintaining a luxurious look. Regardless if you are near the ocean or located within the desert, the same colors can be found naturally in the environment.
Varying shades of brown, like Toffee, Heart of Gold or Hook, are reminiscent of the sand and dunes that help shape the land. From rich and bold to light pastel, different tones of blue found in the ocean and sky complement the Earthy tans that already decorate the space.
No matter where the location is, green plants can always be seen. These three different colors act as a great starting point for the basis of your design.
Using Nature as a Backdrop
With such magnificence surrounding you, it doesn't take much to make your space feel complete. Light colored walls with large windows allow the natural beauty to become a major focal point. With sunlight shining into the area, a wonderful warmth adds a touch of coziness.
Have some fun with the color of hardwood flooring you decide on. Because your palette is still basically neutral, any shade you decide on for the floor can work. Whether it is dark tones from our Blackish Color Collection to almost pure white, as can be seen in the Winter Beach Collection, you can literally use the floor as the base for the rest of your design.
Maintaining Balance
with Colors & Patterns
Locations throughout California were established by a variety of people. Some homes may have a Spanish or Mediterranean influence, while others might be reminiscent of Victorian or Neoclassical architecture. As the Gold Rush began, people came from all over. As a result, a lot of buildings made out of brick or wood became popular.
It doesn't matter if you like the rustic look of the vineyards or the bright lights in Los Angeles. To conserve that airy and open feel, using the proper colors and designs for equilibrium is important.
Whether you decide to add pops of color through art or intensify the visual impact by using fabrics that have a fun design to them, a modern or contemporary look can be obtained easily. If you go with light hardwood flooring, stick to bolder accent pieces in your home. The darker the floor, the brighter your furniture should feel.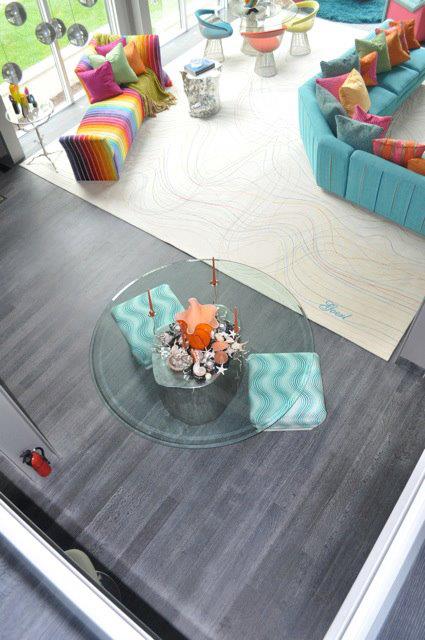 Obtaining Design Help
Our hardwood consultants are here to help you when you decide on your flooring. We can take a look at the other elements that are already incorporated into your design and guide you in the right direction. Picking the rights colors, textures, finishes and patterns can all make a difference in the overall feel.
Browse our Portfolio of colors and request some free samples to get started.